PRODUCT
What is this "game changing formula"
Our mission is to revolutionise snack time with our game changing formula of
FLAVOUR x CRUNCH x PROTEIN
What's it made of?
A secret blend of milk & whey protein which gives us our iconic crunch.
How big is the pack?
Each pack is 24g which is the same as your typical pack of crisps. Protein Crunch contains 7x more protein than your typical crisps!
How big is one serving?
One serving is the same as one 24g pack. Yep, that means one pack = 13g of Protein. Game on!
Is this Keto friendly?
Yes, we've worked closely with our nutritionist to ensure Total XP is a suitable snack for those on a keto diet.
Is this really low carb?
Yes! We only contain 4g of carb per pack!
Is Total XP Gluten Free & Vegetarian?
Yes! We're also soy-free & grain-free
Does it contain sugar?
Some of our flavours do contain low amounts of sugar to maximise flavour
Does this contain any artificial flavours?
Total XP only uses natural ingredients, we're not here for those artificial ingredients.
How do we stack up?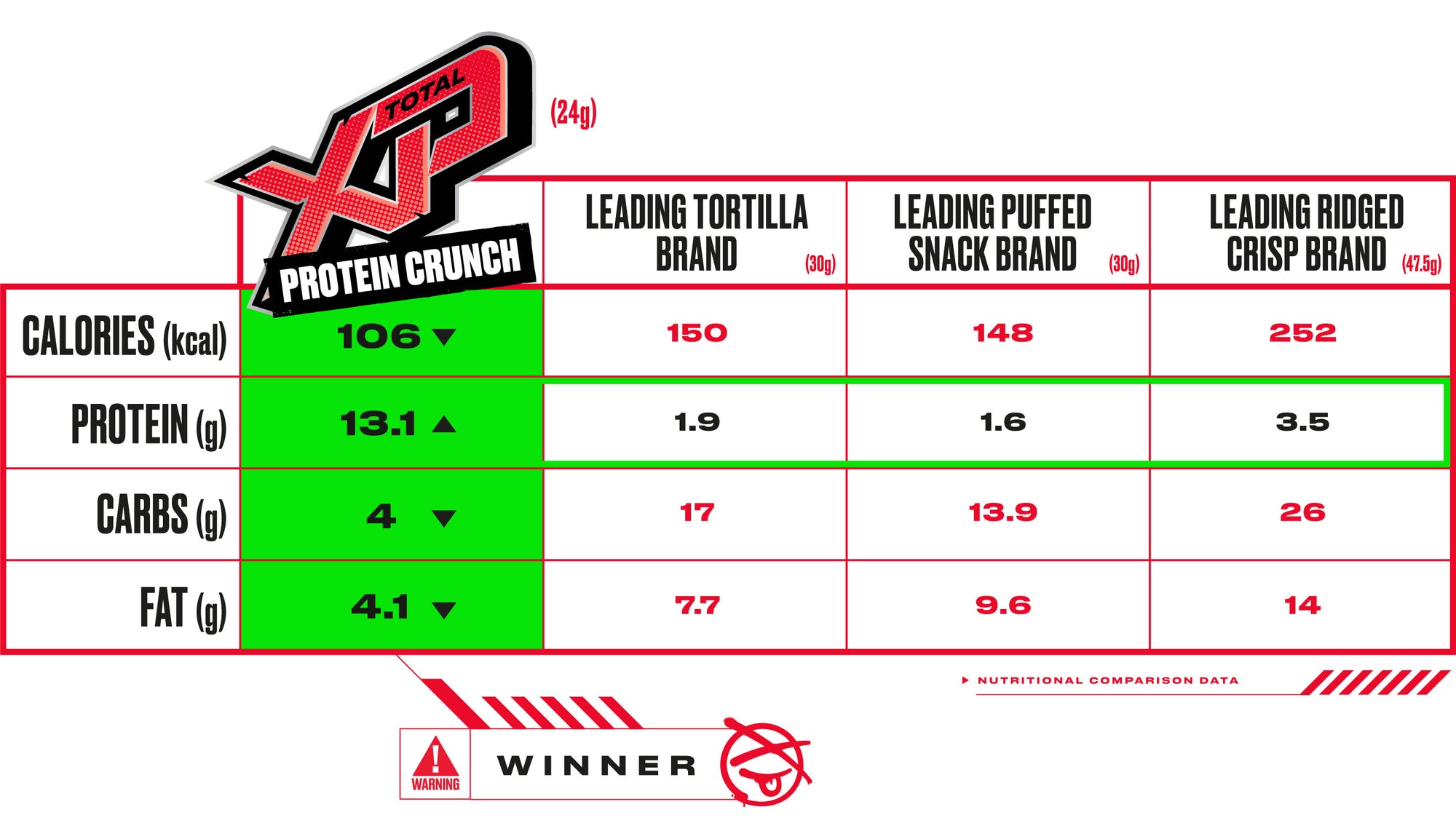 What if I don't like it?
We're always looking for feedback so we'd love to hear from you.
Is it suitable for diabetics?
SHIPPING
How long does shipping take?
Please allow up to 3-5 days, but it's usually much quicker!
Can I change my order once its been placed?
There's a very short window in which you can change your order, reply to your order confirmation e-mail ASAP and we'll see what we can do.
Do you ship internationally?
Not yet...but we'd love to hear from you if you're not based in the UK as we'll be expanding soon!
SUBSCRIPTIONS
Whats the benefits of subscriptions?
You get to level up your snack game with Protein Crunch delivered to your door (or pretty close to it!) every couple of weeks. Don't forget 10% off
Can I skip a delivery?
Yes! Though we rather you don't skip your fix, we get it. Login to your account and manage your subscriptions from there, if you don't have an account, click on the menu on the top left of the homepage and head over to my ccount to create one
Should I subscribe if I've never tried Protein Crunch?
We believe you're going to love Protein Crunch so we'd say, give it a crunch